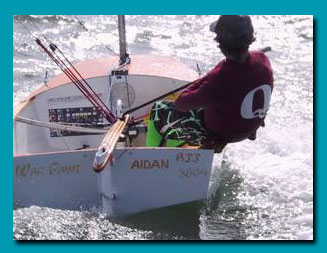 Sailing theory and boat handling skills are learned through:
Family boating activities
Learn to Sail programs offered by sailing clubs and schools
Many organizations offer Learn to Sail programs. Some have their own club boats, some allow you to sail your own boat and others have boats that you can borrow or rent. Check out the clubs in South Queensland that sail Sabots.
Some children start as young and 6 to 7 years old, often crewing for an older sibling.  Others might not start until 12 or 13 years old
and, because of their greater size and weight, move directly into
sailing as a 1-Up without crew. 
A Sabot is a wonderful way to learn the basics of sailing, go on to enjoy the excitement of racing or sail just for pleasure and make friendships that can last a life time. A celebrated milestone for young sailors is to confidently get their Sabot around the race course unassisted.
South Queensland offers a variety of sailing venues in (usually!) warm weather where Sabot sailors build their sailing skills:
calm early mornings or protected bay and river sailing for beginners
open coastal waters with more demanding wind and sea conditions to further build skills
If the sailing bug bites, then it's time to consider buying a boat and maybe sailing in regattas to develop racing skills and confidence.
Sailing aside, the most important aspect of Sabot sailing is fun. Sailing kids are active, fit and resilient, and learn to take responsibility for their boat (and themselves) both on and off the water. The kids and parents always make newcomers welcome and help you to get started: don't hesitate to ask for assistance!