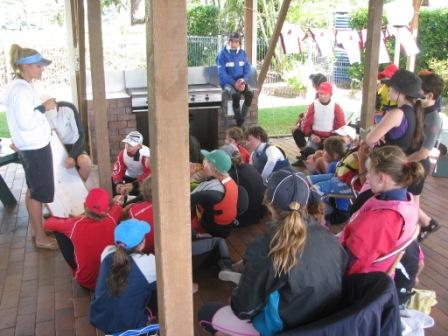 Training
The SQSA coordinates training for its members. This is targeted to sailors who are able to handle their own boat, either through the completion of Learn to Sail courses or through on-the-water practise. Vacancies are often available for junior crew, particularly early in the sailing season.
Training is usually monthly, on a Saturday and/or Sunday, and in different venues to challenge sailors in different sailing conditions.
Yachting Queensland and some clubs also host training for dinghy sailors.
Check our calendar for training dates and locations.
SQSA training is offered on a user-pay basis:  usually $20 per boat
per day.
Racing
Most SQSA sailors participate in weekend races at their sailing clubs. Sailing seasons are often September through May with some clubs also sailing through winter.
In addition to club racing, SQSA members participate in Sabot regattas sponsored by the SQSA and member clubs in family-oriented venues from Southport to Yeppoon:
SQSA River Titles and Bay Titles are held between July and September.
SQSA Selection Trials: conducted over 2 weekends in October and November. From these Selection Trials a State Squad (SQSA region) of the top 12 senior (1-up) and top 6 junior (2-up) Sabots is nominated for the National Sabot Championships.
National Sabot Championships and Sabot Week: held concurrently after Christmas each year. Each State Sabot Association has its turn at hosting the Championships. The State Squad participates in the National Championships and Sabot Week is open to all sailors.
Other popular regattas through the year include the Easter Regatta hosted by the Maryborough Sailing Club in Hervey Bay, the State Championships at Yeppoon in June, OAMPS Regatta at RQYS in July, and Sail Brisbane at RQYS in Manly in November.
Check our events page for Notices of Race and upcoming events.